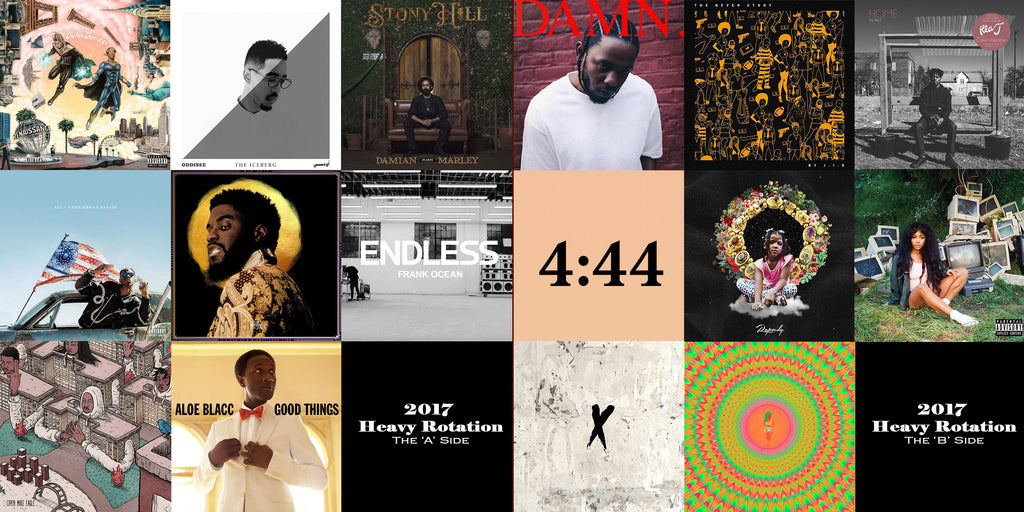 My Most Listened to Albums of 2017
The Process
I find the practice of ranking albums and music a bit wearisome and unjust.  What determines the superiority of one over the other?  With most 'lists' not even giving the characteristics that they're judging with, it often comes down to hype and popularity.  I find the easiest way to celebrate music is simply through evaluating what you listened to most frequently.  I've divided this list into A side and B side.   'A' being my heavy rotation albums and the 'B's' being stuff I listened to a lot but not as consistently.  I also don't limit myself to a particular year.  It makes things more interesting and highlights music that has a lasting impact and allows slower burn releases their time to shine.  Every list out there is a personal list, no matter how the compilers like to distance themselves from that fact, and so is this.  The whole point is to share the music and artists I love, and hopefully expose them to new people.  That's why I check out other people's lists; to catch new artists I've never come across.  Lastly, I wait to January to put this out because what you listen to as the New Year rolls in is important too.  Enjoy!
A Side
Big Krit – 4eva is a Mighty Long Time (2017)
A favourite for many years now, this might be his strongest, best executed project, which says a lot since his personal bar is set very high.  Two albums and two vibes worth of exceptional music.

Joey Badass – All Amerikkkan Bad Ass (2017)
Joey steps out his comfort zone and delves into the heated temperature of America to create some of his strongest and most emotionally powerful music to date.

Open Mike Eagle – Brick Body Kids Still Day Dream (2017)
A new artist discovery this year, Open Mike mixes soulful vocals with well placed raps to give life to the projects and neighborhood that was recently demolished in an aggressive  act of gentrification.

Damien Marley – Stony Hill (2017)
After a long absence, Damien returns with a more straight up reggae album full of tributes to the wonder herb and political discourse. 

Aloe Blacc – Good Things (2010)
With all the stress and bat-shit craziness of modern life, this is my safety blanket.  A masterful album that lifts my spirits every time and received heavy rotation.

The Underachievers – Renaissance (2017)
A duo paying tribute to the Golden Era of New York Rap while transforming and rebirthing it to bring it into the current era.  Lyrics to go with some wicked production.

Frank Ocean – Endless (2016)
Endless was quickly overshadowed by Franks instant follow up Blonde but I rediscovered it towards the end of 2016 via my sister.  Since then it has been my soundtrack for quiet bus rides, long trips and reflective moments.  Underrated but packing so much soul and brave artistry.
Oddissee – The Iceberg (2017)
Stellar lyrics, tight production and on point delivery, it's all present.  Oddissee can talk deeply on hard topics with a clarity and still keep the music entertaining.  Catching him live for the first time let me witness a true performer who sounded as good or better than on his recordings.
B Side
Kendrick Lamar – Damn (2017)
King Kendrick aka Kung Fu Kenny returns with the wrath of God and delivers another stellar project.

Jhene Aiko – Trip (2017)
A little more heavy topically than some of her previous releases, Jhene's beautiful voice and smooth delivery explore trust and addiction in a beautifully personal journey.

Jay-Z – 444 (2017)
A return to form for a living legend.  No ID offers dirty stripped down production for JayZ to grow artistically and sound comfortable in his skin musically for the first time since American Gangster.
JID – The Never Story (2017)
Another young artist creating inspired Hip Hop with very little posturing.  An honest reflection of his life in the moment.

Sza – Control (2017)
A long awaited debut, that has a strong defined sound.  Sza delivers a great mix of vocals that strike me as a blend of 1 part Frank Ocean, and 1 Part Jhene Aiko.

Illa J –Home (2017)
J Dilla's brother releases his strongest project to date, flexing his vocal chords more than ever to compliment his emceeing while delivering a more honest and individual character.

Rapsody – Laila's Wisdom (2017)
Rapsody is approaching a new plateau.  This release is excellent and I predict she'll elevate one more level on her next release.   That said her performance on LW is already a high plateau, and I won't be surprised if I play this more in 2018 than 2017 as it grows on me.

NxWorries – Yes Lawd! (2016)
It was a favourite of 2016 and even moreso in 2017.  Anderson Paak and Knwledge deliver a perfect blend of soul and Hip Hop radiating the California state of mind.