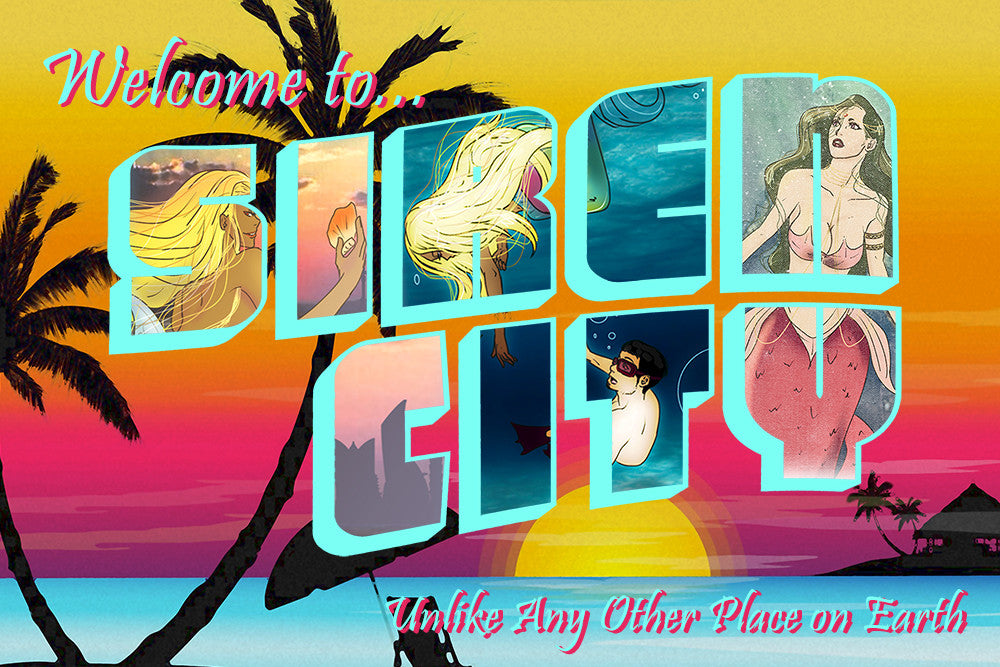 Welcome to Siren City...
It's with excitement and pride I introduce you to Siren City.  Siren City is the culmination of many nights working hard, many dreams fretted over and a means to unite my varied passions for design, music, art and social change into one cohesive force.
For that reason, I wanted to create an alternate world history that can underpin our brand Siren City.  Check out our history page to get an introduction into this alternate world.  As we grow, we'll be featuring art, short stories, comics and political essays all pulled from this quasi-fictional world where Siren City is a thriving independent island city-state existing on a planet otherwise much the same as our own.  Sometimes you need to create a fictional world to light the path of where our real one should journey.
I often recall Google's often mentioned early motto: 'Don't Be Evil'.

That's not good enough.  A survey of their actions showcases the compromises, the wavering and the bends that does nothing to stem the advancement of that 'evil' they reject.  The world needs better, we as humanity need to aim higher.
'Make the World Better'
What does that mean?  For me it means: more equality and more honesty; a greater respect for ourselves, each other and the planet; a greater acceptance of individuals lifestyle choices; a greater freedom to exist (in a truly free society); a reduction in corporate and government power;  a diminishment of hate and the empowerment of caring; an elimination of violence; a greater and clearer value of life.
But there arises the dilemma that counter-cultures inevitably face: how do you change the broken system as an outsider?  Offering divergent opinions is valuable, but it was not by chance how this system was established.  These are not passive forces etching our world.  They are actively perpetuating and profiting from our broken global society. 
My love of Hip Hop from a young age was a small but important factor in instilling a healthy skepticism of the powerful, an understanding of different peoples and narratives, and the power of art. For many ravers in the 90's and 2000's, they found similar truths through a different medium.
However both of those cultures became diluted and warped by our dominant one.  Not holistically of course, but the well was poisoned and the strength was diminished.  Time and time again, from the love movement to the beat generation.  It's be killed or be assimilated. 
For control over a population you need only control three things: shelter, nourishment and violence.  And those three things are in a choke-hold right now by the powerful.
To enact lasting change that can impact those three one must grow powerful, one must develop resources, one must be able to sustain a community.  And that's what the people working with me and I hope to create with Siren City.  Not alone of course, there are many free-thinkers who are working towards the same goal.  We our simply another small piece.  As our alternate history reads, we represent citizens of an island fighting for a different and better way of life.
Our long term plans will be anchored to always carrying forward this goal: Make the World Better.
I'm currently working on our first line of political tees, the 'Modern Hypocrisy' collection that will aim aim to directly undercut entrenched values that sustain this broken world.  The strength of the current regime is in their control of the message. We will wear our counterpoint on our chest!
We will be ethical in our dealings from source to customer and as we gain the resources even more so.  I plan to integrate a means for the artists of our world, musicians, painters and writers, to help better sustain themselves.  Fairness will be in the forefront in all our dealings, from the clothing seamstress to the musicians we partner with.  Making the world better doesn't just refer to our corner of the world.  It has to be holistic.
You might be thinking these are pretty grand and lofty goals for an apparel company.  I hear you, I understand your skepticism, there's a lot of high talk with low action these days.  I truly believe that you have to establish your philosophy, your intent and your values first and let them guide your actions.  If you do the reverse, you'll just end up disappointing yourself and disavowing your results. 
Let this doctrine be my compass so when I wonder where I'm headed, what choice is the right one and how I got here I can look and remind myself of my ultimate goal: 'Make the World Better'.
--Philo