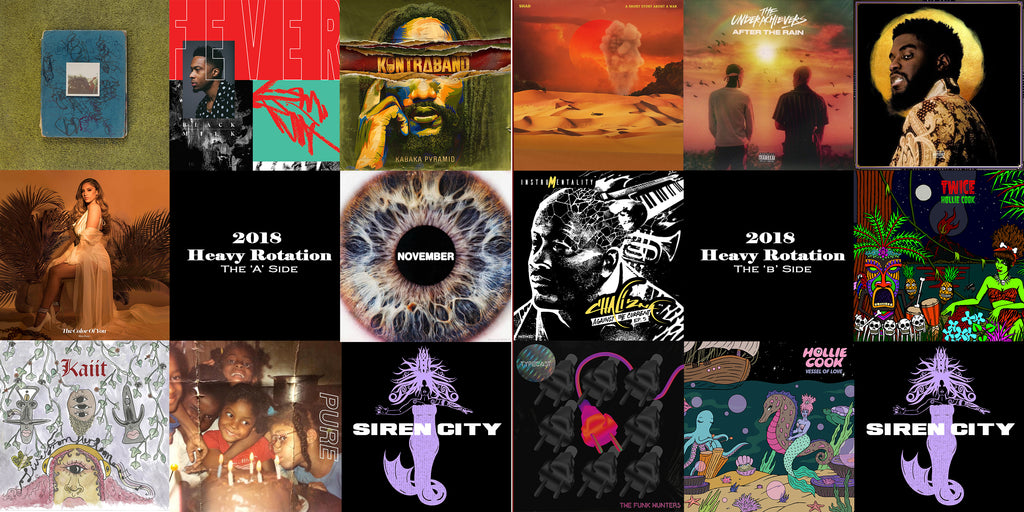 To begin 2018 I found myself chasing music, trying not to miss out on anything.  However that resulted in a lack of deep connection to anything.  I was skimming: consuming without listening.  After this realization midway through the year I stopped chasing the tastes of others, the hype and the trends and submerged myself into the albums that sparked an emotional response and connection. 
It's impossible to hear it all, that's okay.  If you take the time to deeply enjoy what you do listen to, it simply won't matter what you don't.  Enjoy!
We created a YouTube playlist with a highlight song from each project if you prefer to let the music do the talking.  Listen Below:
In no particular order, our most listened to albums of the year:
Black Milk – Fever (2018)
Black Milk keeps evolving and growing with every project.  This go around, he introduced more jazz elements into his exceptional production, while sounding confident, informed and grounded in his lyricism.  Topical, thought-provoking and timely, Fever was one of my go to albums this year.
Highlight Song: Drown
SiR – November (2018)

SiR released an incredible album that may have flown under the radar due to the thick amount of talent on TDE.  Released in January, I consistently re-visited it throughout the year, delighting in his laid back vocals, creative writing and interesting production. 
Highlight Song: Something New
Black Thought - Streams of Thought Vol.2 (2018)
While I enjoyed Vol.1 in the series, the second installment resonated more.  If Vol.1 was the excitement of a champagne cork popping, Vol.2 was to taste it: refined, unique and savourable.  My only critique is craving a second Black Thought verse when most of the songs featured only one.
Highlight Song: History Unfolds
Diana Gordon – Pure EP (2018)
Diana Gordon's music is catchy, well-produced and radio ready.  It is also raw, honest and full of exceptional storytelling.  During moments of reflection and contemplation, her voice was a comfort to my soul.
Highlight Song: Kool Aid
Kabaka Pyramid – Kontraband (2018)
Kabaka partnered with Damian Marley to produce his album which combines modern reggae vibes with a Hip Hop influence for an exceptional result that soundtrack-ed my summer and brought Jamaican vibes north.
Highlight Song: Well Done
Alina Baraz – The Color of You (2018)
Discovered through a friend's recommendation, Alina Baraz' smooth, luscious vocals over stripped down electronic infused production quickly became a favourite to unwind and relax to.
Highlight song: Tainted
Kaiit – Live from Her Room EP (2018)
Kaiit's debut EP oozes confidence as she switches between soul-drenched vocals and syrupy smooth rapping.  With a fresh interpretation of the 90's neo-soul glory years, she has etched out a personal sound that has me eagerly anticipating her next release.
Highlight Song: OG Luv Kush pt.2
The Underachievers - After the Rain (2018)
The Brooklyn duo follows up 2017's solid offering with more potent East Coast Hip Hop.  Not afraid to modernize the boom bap sound with high quality production that made for an easy listen while the deft lyricism elevated the entire experience.
Highlight Song: Evil Things
Big K.R.I.T. – 4eva is a Mighty Long Time (2017)
Still banging into 2018, Krit's double album did not suffer from diminishing replay value.  The dichotomy of Krit (the artist) versus Justin Scott (the person) used to construct the album invites the listener to connect on a more intimate level.
Highlight Song: Miss Georgia Fornia
Chali 2na – Instrumentality EP
The veteran MC demonstrates how to age gracefully in Hip Hop by delivering a positive and inspirational album.  Using his platform and experience to dig into the meaning of life and the human condition, the baritone rapper dodges corniness, to successfully deliver jewels of knowledge and inspire my creative journey.
Highlight Song: Road 2 Success
The Funk Hunters – Typecast
The DJ duo is local favourites of the Pacific Northwest and delivered an album showing off their production versatility stacked with dance floor ready jams.  Funky jams gave my sub a nice workout during those long summer drives.
Highlight Song: Soul City
Hollie Cook – Vessel of Love (2018) and Twice (2014)
I had not kept up with Hollie Cook since her excellent 2011 debut but happily rediscovered her in 2018. With two albums released since then for me to dive into, I regularly soaked up every second of the down tempo, exceptionally chill, and liquefied vocals of her smooth reggae vibes. 
Highlight Song: Stay Alive
Shad – A Short Story About A War (2018)
Five years since his last album, Shad re-emerged in 2018 with a hefty, thought-provoking concept album about war.  Developing his story by presenting the different characters present in a conflict, he dove deep into humanities unwavering dedication to war.  Darker and more intense than his previous albums, his artistic prowess enabled him to successfully tackle a heady topic.
Highlight song: The Revolution / The Establishment
Honorable Mentions
Returning back to my initial thoughts about the sheer quantity of quality music being released I present to you my honorable mentions.  Albums I didn't get to sink my teeth into properly, or didn't catch on to when released but were pretty damn good when I had the occasion to listen in.  May I connect with them more deeply in 2019.
Black Eyed Peas – Masters of the Sun Vol.1
Georgia Anne Muldrew – Overload
Apollo Brown & Joell Ortiz – Mona Lisa
Fashawn – Manna
Jorja Smith – Lost & Found
Kooley High – Never Come Down
The Midnight Hour – The Midnight Hour
Royce da 5'9 – Book of Ryan
Be Yourself – Taylor Bennett
JID - Dicaprio2
Phonte – No News is Good News
Leon Bridges – Good Thing