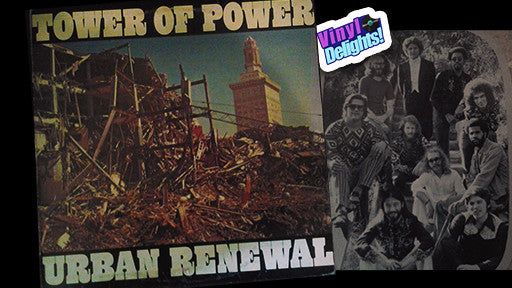 From the Bunker Vault:
A funky and rockin' song from the 70's tour de force band Tower of Power.
Tower of Power is a 9 piece band with 3 additional members while performing live, including a concert master to keep all the talent balanced and awesome.

They're strength lies in their extremely talented 5 member brass section, including 3 saxophones, which shine on every track. The music casually walks through Funk, RnB and good ol' 70's Rock & Roll.

Their brass section was so highly regarded, it was chosen as a pivotal feature in the amazing 1978 live album 'Live from Columbus' by Little Feet that featured all 5 members.

Their connection to Little Feet was what lead me to rediscover them. Steve was showing me his recent purchase, the Live From Columbus 2LP, and we were both blown away by the quality of the music and the richness of the live performance. Which was bolstered heavily by the Tower of Power brass.

Two weeks later I found myself digging in some Vancouver record shops and came across the Urban Renewal record. With their stunning live performance still fresh in my mind, I picked it up without hesitation, even though I had never heard any of their solo material.

I was not disappointed. The instrumentation is dynamic, with an added bonus of sweet vocals and stimulating lyrics; touching on topics still relevant today, such as oil dependance and legalization of pot. They produce music that matches the quality of some of the best large member bands of the 70's.

If you like Rock & Roll, and you like Funk, then you'll love Tower of Power. You can hold me to that.